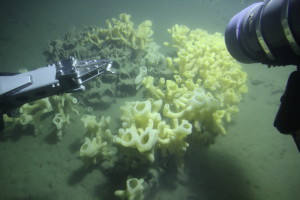 CPAWS has been working to protect BC's globally unique glass sponge reefs since 2001.
We are deeply concerned that the proposed Hecate Strait and Queen Charlotte Sound glass sponge reef MPA will not provide adequate protection, allowing too many potentially harmful activities to occur around the reefs.
In addition to the glass sponge reefs in Hecate Strait there are also glass sponge reefs in the Strait of Georgia that are currently protected by fishing closures but are still at risk from damage by anchors and underwater cables. Newly discovered reefs in Howe Sound and Chatham Sound currently have no protection at all.
BC's glass sponge reefs are relatively small but incredibly important and exceptionally rare ecosystems.
Without protection they might disappear again, this time forever. The reefs need your help.
Show your support for BC's Sea of Glass and tell the Minister of Fisheries, Oceans and Canadian Coastguard that BC's glass sponge reefs need better protection.