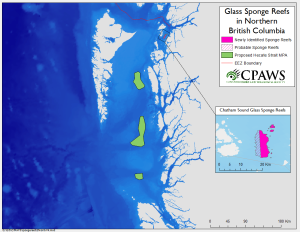 A new 12 kilometre long glass sponge reef has been discovered near Prince Rupert in Chatham Sound making it one of the largest glass sponge reefs discovered in BC making it a very significant discovery and a very important ecosystem.  The reef is in the potential pathway of a number of proposed industrial developments so it needs to be protected, and quickly!

The reef was discovered by a team of scientists conducting an environmental assessment for a Spectra Energy underwater LNG pipeline route back in 2013. Unfortunately the discovery was buried in the mountain of documentation for the environmental assessment and was only brought to the attention of conservationists in early 2016.
The reef was detected in much the same way that the Hecate Strait reef complexes were discovered; using soundwaves to survey the seabed they discovered a mysterious ghostly mounds rising off the seafloor. The team then sent down an ROV to conduct a video inspection and discovered the reefs. The team that discovered the reef only surveyed the portion of it that fell into the proposed project. Based on the topography of the seafloor the reef is likely to be much larger.
Full surveys are needed to map and measure the full extent of the reefs,  determine their health and condition and survey other species that are found on the reefs.
The proximity of the reefs to areas of proposed industrial development and undersea pipelines, major shipping lines, and a major fishing port is a concern for conservationists. As one of the largest glass sponge reefs ever discovered, the Chatham Sound reefs are an incredibly important ecosystem and one that needs to be fully protected as quickly as possible.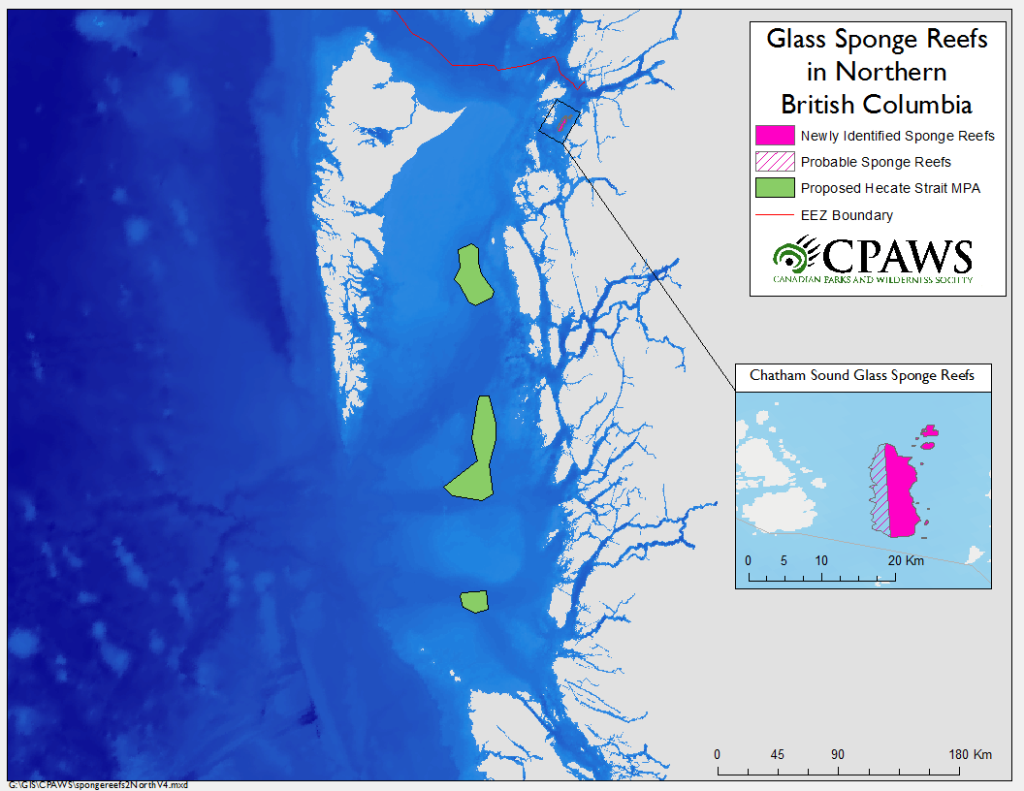 Read the environmental asssessment.
TAKE ACTION
Ask the Minister of Fisheries, Oceans and Canadian Coastguard to make sure that the Chatham Strait glass sponge reefs get the protection they need, quickly!
Send your letter today – https://secure2.convio.net/cpaws/site/Advocacy?cmd=display&page=UserAction&id=201